Alexander Golant, MD

Orthopedic Surgeon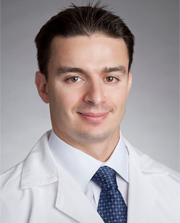 Alexander Golant, MD
Dr. Golant is a Board-Certified, Fellowship-trained Orthopaedic Surgeon, whose practice focuses on Sports Medicine, Arthroscopic Surgery, and Joint Reconstruction. He is the Associate Director of Sports Medicine at the NewYork-Presbyterian/Queens Department of Orthopaedic Surgery in Flushing, NY, and Assistant Professor of Clinical Orthopaedic Surgery at Weill Medical College of Cornell University.
Dr. Golant has extensive experience in management of orthopaedic sports medicine injuries and conditions in patients of all ages and experience levels, ranging from weekend warriors to professional athletes. He previously worked with the NY Cosmos, NY Jets, and NY Islanders, and currently serves as a Team Physician and Orthopaedic Consultant for the Metropolitan Oval Soccer Academy, the Brooklyn Knights (USL Premier Development League soccer team), and the Flushing High School Football Team.
Dr. Golant actively participates in all facets of orthopaedic care, education and research. He is the Research Director of the NYPQ orthopaedic department, teaches orthopaedic residents (from Hospital for Special Surgery), and regularly serves as an Associate Master Instructor at courses organized by the Arthroscopy Association of North America. He has authored or co-authored a number of peer-reviewed scientific articles and presentations, and continues to conduct research investigations in several areas of orthopaedic surgery, sports medicine and joint preservation. He serves as a reviewer and is on the Editorial board for the Journal of Arthroscopy, and is a member of the Publication Committee for the American Orthopaedic Society for Sports Medicine.
Dr. Golant is an active member of the American Academy of Orthopaedic Surgeons (AAOS), American Orthopaedic Society for Sports Medicine (AOSSM), Arthroscopy Association of North America (AANA), and New York State Society for Orthopaedic Surgeons (NYSSOS).
In 2010 and 2013 Dr. Golant was recognized with a Compassionate Doctor Award (Vitals Patients Choice).
Dr. Golant was named as one of the Super Doctors®, New York Rising Stars, in 2013, 2014, and 2016, and was featured in a special issue of The New York Times Magazine. Dr. Golant was recently selected as one of NY Top Docs 2016.
Dr. Golant was one of four surgeons in the country selected by the Arthroscopy Association of North America (AANA) to the 2014 Advanced Arthroscopy Traveling Fellowship. He participated in this prestigious program from April 20th to May 3rd, 2014, under the tutelage of Dr. Donald H. Johnson, a world-renown sports medicine surgeon.
Dr. Golant speaks fluent Russian. He is an avid skier and a life-long martial artist.